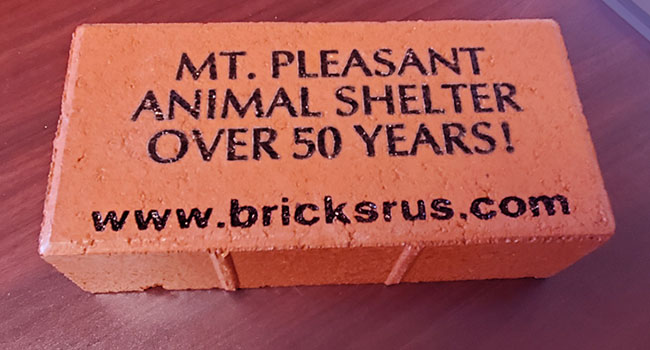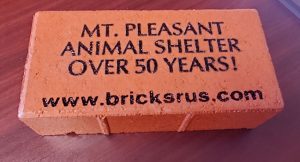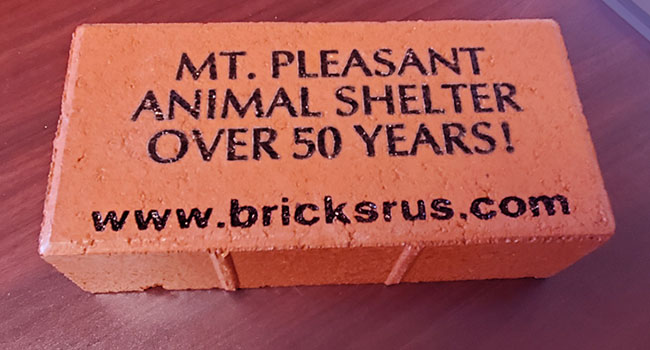 For almost 50 years Mt. Pleasant Animal Shelter has been a part of a community dedicated to saving the lives of homeless, neglected, or abused dogs and cats. To continue to save as many animals as we can, we need your help. Together, we can save more lives.
Mt. Pleasant Animal Shelter is pleased to bring you a unique opportunity to purchase an engraved brick, which will become a permanent part of the shelter's property. This project will sustain the shelter and help us increase our efforts as well as make necessary updates to provide a more enriching environment for the animals in our care.
Engraved bricks will help pave the way for future animals in need of our help. Ideas for engraving:
Honor or memorialize a family member or someone special
Gift giving (Holiday, birthday, anniversary)
Engrave your business or organization name
Include a personal message of support
Costs: 
4 x 8 Brick ($100)
8 x x Brick ($250)
Extras (available online only):
Donor Brick – order an exact duplicate of the brick you are purchasing. (4 x 4 Brick $75, 8 x 8 Brick $200)
Donor Certificate – order a printed certificate on heavy iron paper showing your inscription on red-colored brick. ($15)
Order online today, or you can also use our downloadable form. Place your order before January 31, 2021.