Community Outreach is an important part of what we do at Mt. Pleasant Animal Shelter. Supporting local food banks and shelters with supplies helps pet parents care for their animals. We collect and organize food and supplies and distribute them on a regular basis.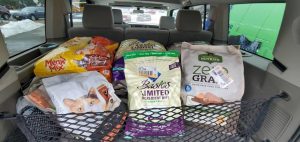 In March 2021, we distributed more than 1,000 lbs of pet food to support those in need. This helps feed approximately 55 pets for one month. We also donate items like blankets, beds, and toys.
Through this program, we provide much-needed support to those struggling to feed their pets. You can help support our endeavors by making a donation below or by ordering food items from our Amazon or Chewy Wish Lists.