Leila Marcillo-Gomez is a Mt. Pleasant Animal Shelter intern from Verona High School
She completed this article for her Senior Capstone Project.
---
What is FIV? FIV stands for Feline Immunodeficiency Virus and is often compared to HIV or AIDs in humans. While the disease can be debilitating as it slowly weakens a cat's immune system, do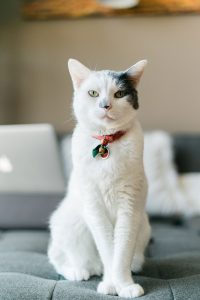 not be alarmed! It is possible for a cat to live a good and healthy life even with FIV, according to Cornell University, about 2.5-5% of healthy cats in North America are infected with FIV. However, for a cat to stay healthy, it is important to know the signs of FIV and how to manage it.   
The symptoms of FIV include poor coat condition, reoccurring fever, lack of appetite, inflammation in the mouth and gums, chronic infections in the eyes, skin, upper respiratory tract, or bladder, constant diarrhea, persistent eye problems, seizures, behavioral changes, and signs of neurological disorders. If your cat shows any of these signs, make sure to talk to your vet for further input. It is also important to note that FIV can often be confused with the feline leukemia virus, so further input is important if you think your cat may be positive for FIV.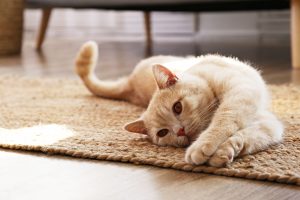 So, what about cats with FIV? In most cases, FIV spreads through deep bites or sexual interactions between cats. It DOES NOT spread to humans. It is not spread through sharing an eating bowl, social grooming, sneezing, and sharing a litter box. If your cat has FIV, prevent spreading by keeping your cat indoors and away from other cats, get your cat spayed or neutered, and put your cat on a leash if you walk them outside. Additionally, eliminate raw foods and eggs from their diet. If you have recently adopted a cat, make sure they are tested for FIV. If your cat will be around other cats for prolonged periods, make sure all cats have tested negative for FIV. Male cats are twice as likely to become infected with FIV and it is most common in cats ages 5-10 years old.  
Receiving a correct diagnosis is very important, it is common to get false-positive or false-negative test results. If your cat has encountered another cat with FIV and receives a negative antibodies test result, make sure to test again in 60 days since the antibodies may not have formed yet. A cat can have FIV for many years and be asymptomatic, checking for symptoms and asking your veterinarian about FIV is important if you think your cat may have been exposed to it. Additionally, it is possible for a mother who has contracted FIV while pregnant or before to pass it on to her children through birth or nursing. In this instance, kittens may test positive for FIV for the first 6 months. After 6 months, most kittens will be negative for FIV. If they are not, it is possible they have FIV.  
Unfortunately, there is no cure for FIV, but if managed appropriately, a cat can live a normal and healthy life. Since FIV weakens a cat's immune system, it is very easy for them to contract other illnesses or infections and sometimes develop cancer. Appropriate treatments include medications to help with secondary infections, fluid and electrolyte replacement therapy, parasite control, drugs to boost the immune system, drugs to help with inflammation, and a nutritional diet.  
Remember, FIV is not the end all be all for cats. If treated correctly, a cat can live for many years and be as loving and cuddly as any other cat.  Mt. Pleasant Animal Shelter currently has two FIV-positive cats.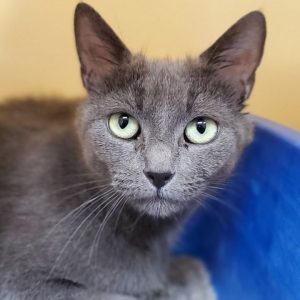 Skye is a very playful 6-year-old shorthair. She is a recent mother who adores attention and pets. Skye is very active and vocal. She has a voice and loves to use it! Skye has been known to walk right up to people to greet them in the cattery. (Update: Skye has been adopted!)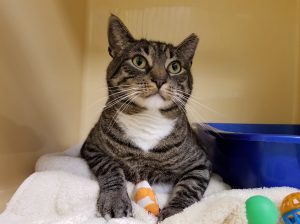 Tigger loves to lounge around. He is a very sweet 3-year-old. While he can be a bit shy at first, he warms up to people quickly. Tigger needs a patient person who can give him the space he needs. Tigger is a reserved cat who is looking for his forever home.